The Church of St Nicholas, Arrington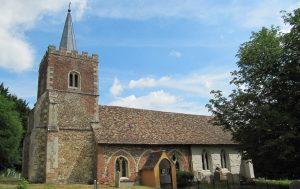 St Nicholas is the Parish church of Arrington. It is the smallest church in the Orwell Group and serves a rural community of some 400 people. There are two regular Sunday services a month in the church, there is also one additional service in the Clifden Close Community rooms each month. Morning Prayer is said each Tuesday morning at 8.00 am.
The church is situated off the main road on one of the highest points in the village at the core of the former Late Anglo-Saxon settlement. The Roman road called Ermine Street has a significant effect on the community and became another the focus for village in the 17th century, largely centred around the Hardwicke Arms a former Coaching Inn.
The Church in Arrington may have been founded by Aelfric a Saxon thegn or the earlier Theodred a Saxon bishop of London. A church was in existence around 1087 although the current building only dates to around 1250 -1300. It is a grade 1 listed building as it has a medieval chancel of the 13th century with all its original windows, a double piscina, priests door and low window. The Tower and the arcades of the Nave are also of this date, although the aisles have been removed. The remains of a figurative wallpainting were uncovered at the west end which also appears to date from the 13th century.
Arrington is unusual for this part of Cambridgeshire in having a small spire. This was built in 1750 by one of the carpenters who was employed in the re-building of Wimpole Hall.
The church is normally open each day from 09.00am and will close around 04.00pm. However during the summer months it will close later around 6.00pm. The churchyard is open at all reasonable times. The churchyard is also being managed to offer a habitat for wild plants and flowers.
The church is able to consume very little energy and is better than best practice for its Carbon footprint. It is also a Fairtrade church.
---
MISSION STATEMENT
---
The church aims to maintain the worship of God and to serve the spread of his love and word through the teachings, example and inspiration of Jesus Christ and the Holy Spirit, throughout the whole parish and to all its peoples. Furthermore, it will integrate its workings within the focus of the mission of the United Benefice of Arrington, Barrington, Croydon, Orwell and Wimpole
---
ACCESSIBILITY
---
There is limited parking in the lay-by outside the church and on Church Lane. Access is via a steep path up from Church Lane, with a handrail. Stepped access down into the church and steps up within the church. We have large print service and hymn books. We welcome assistance dogs. No toilets. There is some heating and there are guide books/leaflets. FairTrade coffee and tea is provided after the morning service.
Would you like to make a donation to St Nicholas Church?
Despite the restrictions of recent months we have remained an active church community. Sadly we have had to postpone some of our fundraising activities which has an effect on our finances. If you would like to make a one off donation, you can do so here