The Church of St Andrew, Orwell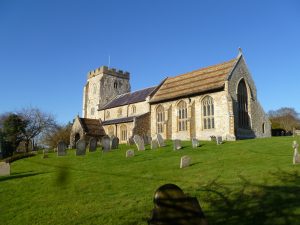 Set on a steep rise on the northern edge of the village, the church was mainly built in the thirteenth and fourteenth centuries although traces remain of a nave without aisles built c1150. The chancel was rebuilt in 1398 in memory of Sir Simon Burley, Lord of the manor of Orwell and tutor to the youthful Richard II. It was restored and virtually rebuilt in 1883.
The tower was built c1250 followed by the arcades and aisles c1320. The north aisle in white brick and stone is mid nineteenth century.
Also of particular note is the memorial in the chancel to a former rector Jeremiah Radcliffe who was part of the team of scholars who translated the Authorised Version of the Bible.
The East Window is an excellent example of work by Leonard Evett and portrays the life of St Andrew.
There is an interesting sculpture fragment – rediscovered in the late 19th century during restoration and rebuilding – of the crucifixion with St John dated 1300.
St Andrew's has a peal of Eight Bells (augmented in 1998 with a grant from the millennium project). Practise night is Tuesday.
The church is open daily from 9.00am and closes in the evening at dusk. The churchyard is open at all reasonable times.
---
MISSION STATEMENT
---
The process of preparing our Mission Action Plan led us to feel that we should be:-
Looking out – our mission to the wider community
Looking in – building up the fellowship of the faith community so that we can with confidence enact our Mission Action Plan
Looking up – in prayer and worship so that our faith is sustained and strengthened
---
ACCESSIBILITY
---
Street Parking only. Stepped access up to churchyard and into church and within the church (Nave to Chancel). Large Print service and hymn books. We welcome assistance dogs. There is a hearing loop. Heated. No toilets. Refreshments served after services.
Bell Ringing at Orwell Parish Church
Orwell ringers practice at 8pm on a Tuesday evening.  Come and visit us to find out more on how to join in.
Would you like to make a donation to St Andrew's Church?
Despite the restrictions of recent months we have remained an active church community. Sadly we have had to postpone some of our fundraising activities which has an effect on our finances. If you would like to make a one off donation, you can do so here