The Church of All Saints, Croydon-cum-Clopton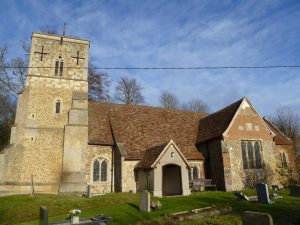 Croydon-cum-Clopton were originally two communities and were joined together in 1561. This was due to the de-population and aggressive enclosures of Clopton by a London Lawyer, John Fisher. In fact Clopton had a market in 12th century which would have given it the status of a town at that time.
In the 11th century both Croydon and Clopton had above average populations. However like many villages in the area there was slow decline in population. Today Clopton is a lost village although its site can still be visited by following the bridleway that extends westwards from Croydon High Street.
Croydon also has a substantial area east of the church where most of its own medieval lost village lies under farmland. The modern village consists largely of 19th and 20th century properties, mostly to the west of the church, although earlier remains are scattered between and behind them. It is this linear development along the High Street that is the modern focus of the village with its Reading Rooms and The Queen Adelaide public house.
The Church of All Saints serves a modern community of some 200 people within a large rural parish. The present building, dating from substantially the 14th century, also has a 12th century font and a 13th Century south arcade that indicate an earlier building. Its haphazard leanings and uneven floor all offer a picturesque image of a medieval church but are in fact due to the lack of substantial foundations and movement of the land around it.
The church retains its Post Reformation Pews and a pulpit made up of parts of the original 17th century pulpit.
The Downing family (who owned and built Downing Street in London and founded Downing College in Cambridge) had extensive interests in Croydon and they totally rebuilt the chancel in the 1685. Beneath the Chancel is a crypt for the Downing family.
The church is open each day during the hours of daylight. The churchyard is open at all reasonable times. There is a small exhibition in the church of former village life through photographs.
---
MISSION STATEMENT
---
To love and worship God and deepen our faith and commitment;
To share the truth of God's word, serving others in our daily lives and taking the love of God out into the world.
---
ACCESSIBILTY
---
Accessible Car Park on church path other limited parking on Church Lane. Level access from accessible car parking into church via ramp at porch. Stepped access up into the chancel and down into the south transept. No toilets. We welcome assistance dogs. Limited heating. Large print service books are available. Coffee and Tea provided after services. Guide Books available.
Would you like to make a donation to All Saints' Croydon?
Despite the restrictions of recent months we have remained an active church community. Sadly we have had to postpone some of our fundraising activities which has an effect on our finances. If you would like to make a one off donation, you can do so here