The Church of All Saints, Barrington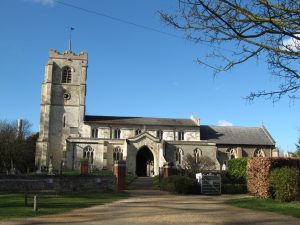 The clunch church which is a grade 1 listed building stands at the east end of the 22 acre village green. Although there is evidence of an earlier 12th century building, it mostly dates from the 13th and 14th centuries with medieval roof, pews and south door. The Barnack stone font is thought to be a relic of an earlier Saxon church on the site.
Also of interest is the 16th century parish chest, 17th century bier, fascinating corbels of local people, the staircase to an earlier rood screen, the fine Jacobean pulpit and the late 15th century Bendyshe chapel off the north aisle with its reredos by Sir Ninian Comper. The vestry off the south aisle replaces a pre-reformation chantry. The west tower contains six bells. The chancel was restored in Victorian times when its present furnishings were installed.
Barrington village has one of the largest village greens in Britain. The Church is situated at the east end of the green and the lovely thatched Royal Oak public House is situated at the other end of the green.
The church is open daily during daylight hours. The churchyard is open at all reasonable times.
---
MISSION STATEMENT
---
Through our regular worship in Christ's name, we seek to share the love of God:-
Throughout the parish and beyond.
We will listen and be open to change
We will serve the community through welcome and support.
---
ACCESSIBILITY
---
Accessible car park space for blue badge holders outside church gate. Gentle incline along church path to church threshold with ramps available at service times into church. Ramps between Chancel and Nave. Induction Loop. Large print service and Hymn books are available. Accessible toilet available at service times. We welcome assistance dogs. The church has heating. Tea and Coffee after morning Eucharist services. Guide books available.
---
Bell ringing at Barrington Parish church
Barrington ringers try to practice at 8.00pm on Monday nights excluding any festivals.  We are hovering on the "too few level" so it is always best to check with either Michael Scott 01223 870967 or Geoff Harrison 01223 871346 since last minute changes (no pun!) can affect the decision to ring or not.
We are a very sociable band and are very keen to attract more ringers. If you want to see whether you would like to learn give Michael a call and a testing session can be arranged.
Would you like to make a donation to All Saints' Barrington?
Despite the restrictions of recent months we have remained an active church community. Sadly we have had to postpone some of our fundraising activities which has an effect on our finances. If you would like to make a one off donation, you can do so here