Christmas Events & Services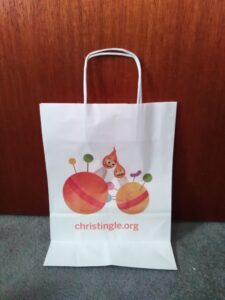 Christingle in a Bag  13th Dec  @ 6pm

This year we we decided to include the whole community in our Christingle celebration.
Every household recieved a Christingle in a Bag and were invited to stand on their doorsteps and light them. It was a wonderful time, seeing our neighbours and spreaching the light around our communities (despite the wind!) … some photos of the results are here
Sheep Scavenger Hunt        18th December

Many sheep have got lost in our villages… can you help find them?                 They will be bleating to be found from Friday 18th Dec.
When you find one or two, take them to one of the Stations of the Nativity and hide them in the scene and take a photo and email it in. If they would like to rejoin their shepherds, they can be found at Orwell Church and at Mill Lane in Barrington.
Christmas Messy Church in a Bag     19th December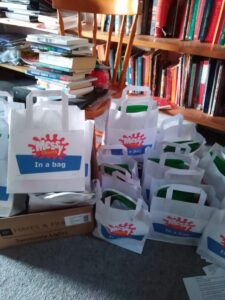 This month's bags will be available in Barrington Church porch and outside the Rectory in Orwell on Sat 19th Dec.  Do help yourself if you would like a bag.
For those who want to, we will have a Messy Church Zoom on Sun 27th at 11.30am.
Stations of the Nativity    19th Dec – 6th Jan

There will be a trail telling the whole story of the Nativity. It will begin in Croydon with Gabriel appearing to Mary and travel through our parishes, ending with the arrival of the Magi at Barrington School.
There is a downloadable trail map available here and how you use them is up to you. You could visit them all on one day, or spread them out over the time they are there…
If you aren't able to get around to them yourself, we have created a trail video here
Nativity Service   20th December  @ 3pm

Join us for our Nativity Service on Zoom on Sunday 20th at 3pm. Come along dressed up as one of the characters if you like and join in with the fun, including singing some carols.
Contact us for the link if you would like to join us.
Carol Service on Youtube          20th December  @ 6pm  Youtube link here

We are not able to have our usual Carol Services this year, but we will have a Youtube Carol Service on Sunday 20th Dec at 6pm. The carols will be sung by our Benefice choir and the familiar readings by local members, so you can see familiar faces reading our favourite readings and be able to join in with the carols in the safety of our own homes. I do hope you are able to join us.
Prayer tree
There will be either inside or outside each church a real Christmas tree to use to put your prayers on, for those you hold in your hearts.
Blue Christmas Service  23rd December @ 7pm

For many people, even in a 'normal' year, Christmas can be a difficult time….
Maybe they have lost a loved one during the year, or are missing someone from longer ago.
Maybe they aren't part of a 'happy family' which the media portrays so much at this time of year.
Maybe they are simply not full of joy and feel out of step with everyone else…
We will hold a Blue Christmas service which will recognise some of the pain associated with Christmas on Weds 23rd Dec at 7pm. This will be in All Saints' Church, Barrrington.
Christmas Services                                                                                                                                                                                                                                                                                               we would love you to attend one of our services, please can you contact us to book a place.
24th Dec 11.30pm    Eucharist in All Saints' Church Barrrington
24th Dec 11.30pm    Eucharist in St Andrew's Church Orwell
25th Dec  9.30am    Eucharist in All Saints' Church Croydon
25th Dec 9.30am     BCP Communion in St Andrew's Church Wimpole
25th Dec 9.30am     Morning Prayer in St Nicholas Church Arrington