Our Mission
Our Benefice does some things as a whole group rather than individual parishes. These include;
"Cheers!" meets monthly on the first Thursday of each month at 8pm in one of the pubs in the Benefice. It is an informal meeting of church people who want to get to know each other better, and gives those who don't attend church an opportunity to talk to us in a relaxed setting.
Study Groups  –  We meet during Lent & sometimes at other times of the year to follow a course of Bible study and discuss what it might mean for our lives today.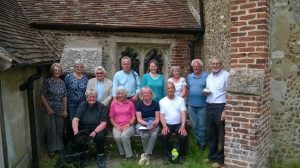 Social and Prayer Activities
We share a Benefice walk between each of our churches, this includes some form of prayer stations at each church. Some people journey between the churches by car, joining the walkers at each stop.
'People Fully Alive' is the Diocese of Ely's strategy for the 10 years 2015-25. and can be found here https://www.elydiocese.org/content/pages/documents/1568816812194915186.pdf
Safeguarding
The Safeguarding of children and vulnerable adults is of paramount importance to us, to view our Safeguarding Policy click here.
Charitable Giving
We believe that we should give something of thre riches that God has given to us to those who are in more dificult circumstances. Most of our parishes give some money to charitable organistations. In 2018 we have supported, The Children's Society, Royston Foodbank, Jimmy's, Shelter Box, Royston Homestart, The Salvation Army amongst others.
Link to Hope
We have also supported Link to Hope's Shoebox appeal for several years now. Link to Hope takes the shoeboxes to Eastern eutrope where they are given to families or older people with no conditions. This year we sent about 60 shoeboxes. To read the shoebox diary which some of the volunteers have written click here